About
Everything there is to know about St Columba's and our parish community
About Fr Alessandro Reno
Born in Taranto, Italy, in 1971
A primary school teacher
Worked in Rome as a qualified psychologist
Spent some time with the Taize community and its prior Fr Roger Schutz
Studied philosophy and theology in Rome and in Ecuador
Worked in the Archdiocese as Animator and Director of the Choir in the Cathedral and taught music and Latin in the seminary
Worked as a psychologist in a medical centre
Began pastoral commitments with the youth
Ordained as a priest in Portoviejo on the 18 January 2014
Appointed Parish Priest of the Church of Saint Paul in the suburbs of the city
In contact with extreme poverty, violence of every kind and drug issues
Worked with the Liturgical Commission in preparation for the visit of Pope Francis in May 2015
And with the Pastoral Youth Commission of the Diocese preparing the National Meeting of the Youth of Ecuador in Manta
In Holy Week 2016 arrived in the Diocese of Northampton - a new start and a new beginning in Chesham.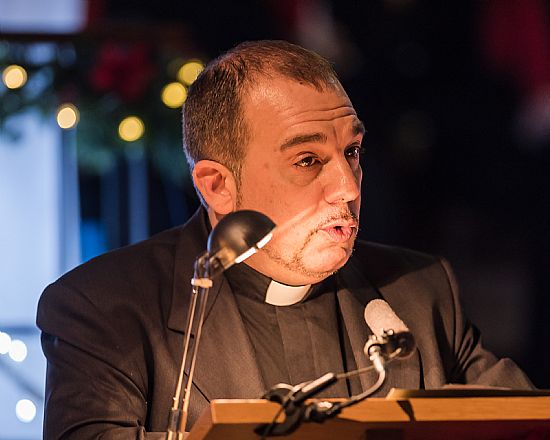 Video of the History of St Columba's
Previous Parish Priests
Fr Anthony Chadwick 1960 - 1967
Fr Michael Foley 1967 - 1979
Fr Dererk Morgan 1979 -1984
Fr Bernard Hindle 1984 - 1992
Fr James Marks 1992 - 1996
Fr Chris Whitehouse 1996 - 2002
Fr Patrick Bailey 2002 - 2016
History of Catholicism in the Chesham Area
From the 1870s a visiting priest would occassionally offer Mass in the homes of local Chesham Catholics. Regular services began around 1905 after Betrum and Ada Chevalier, brother and sister of Anglo-French background, bought a house in Chesham which they named "St Telio" (now 164 White Hill). Before they came to Chesham the Chevaliers had been parishioners of the Catholic Priory in Kensington, which was run by Discalced Carmelites friars (Discalced friars are those who go barefoot, or wear sandals) Once a month a Carmelite priest from Kensington visited Chesham by train, and said Mass for local Catholics in a room which served as a chapel in the Chevaliers' house.
Origins of St Joseph's Chapel, Chesham
In June 1907 the Chevaliers purchased a large piece of land in Khartoum(now Eskdale ) Avenue , where they had two houses built. In 1909 they sold these to the Catholics for a Carmelite mission. The upper house was named "St Helen's" (now 105 Eskdale Avenue) and the lower house was named "Mount Carmel" (now 103 Eskdale Avenue). A Carmelite priest, Father Francis Lamb lived at "St Helen's". Two rooms at the back were knocked into one , to make a chapel dedicated to St Joseph (of Nazaerth) The first Mass was held there on Sunday, 9 May 1909, It was reported to the bishop that about 50 people attended with the majority being curious or interested Protestants. Sunday services were held at 10.30am and 6.30pm, with singing led by a choir of men. Confessions were heard in English, Italian , French, and German, reflecting the languages of the congregation. St Helens was used as a community house for Carmelite novices (students) who were trained to be priests. By 1911 there were eight novices from England and Ireland living there. By 1912 increasing numbers of novices meant that Mount Carmel was also used with its rooms used as classroooms, a refectory, and offices. A corridor was built to link the two buildings, and St Joseph's Chapel was moved to Mount Carmel. Meanwhile the Carmelites applied for planning permission to build a monastery, church and school in Chesham but this was declined. Instead in September 1913 all the Carmelites moved from Chesham to Chalfont St Peter, where they built a new church called St Joseph's Church and Priory at Austenwood Common, and established St Joseph's Primary School. The Chesham chapel continued to be used for Sunday services which were conducted by Fr Eric Coleman, who travelled from Chalfont St Peter.
Our Lady of Perpetual Succour, Chesham Bois
The congregation of approximately 35 came from Chesham, Chesham Bois and Amersham. It was decided that they needed a more central location for services. In November 1914 the Catholics bought some land in Chesham Bois, where they built the church of Our Lady of Perpetual Succour (A Marian title) In 1915 services transferred from Eskdale Avenue to the new church in Chesham Bois. The Catholics then sold their Eskdale Avenue properties and land. Mass was not held in Chesham again until 1947, when the priest from Our Lady's came to conduct mass at the British legion.
(Adaption of an article by Neil Rees)
Church Timeline
1956 - The land for St Columba's Chesham was purchased
1960 - The first Mass was celebrated in St Columba's Church
1985 - Bishop Thomas celebrated the church's Silver Jubilee
2000 - The church and the main altar were consecrated
2010 - St Columba's celebrated its Golden Jubilee
2020 - St Columba's celebrated its Diamond Jubilee virtually amidst the Coronavirus Pandemic
Website designed by Michael Fahey in April 2020